CustomRCmodels R/C Tank's
|
home




CRCM_Modellspiegel_gearbox

it is my pleasure to introduce a new exiting product for our 1/16+1/15 scale R/C tanks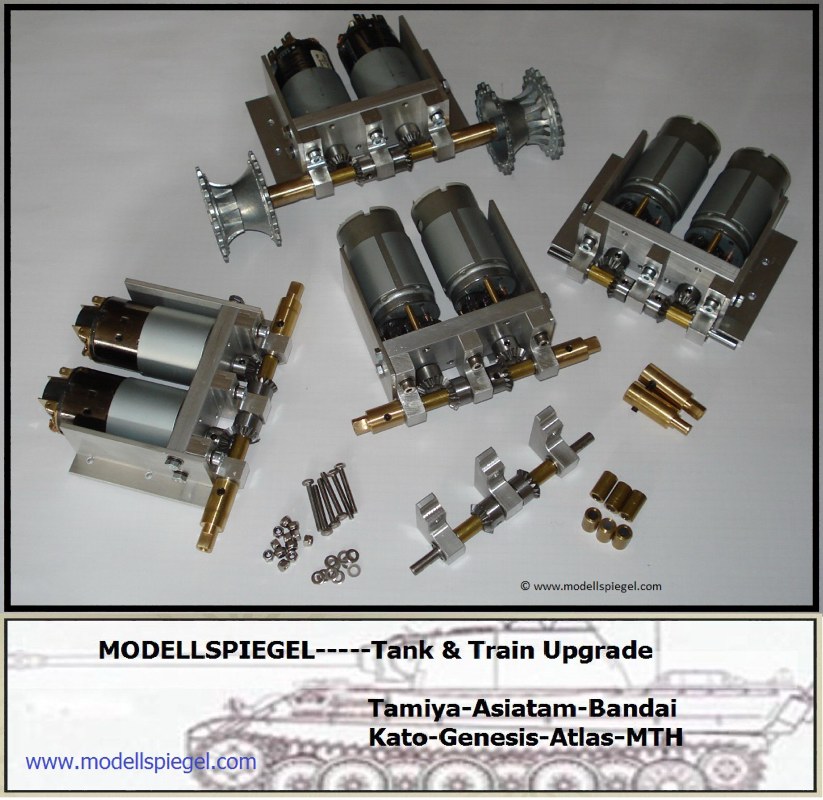 first a little "history-lesson" and introductory for these new type gearbox's
most of you reading this section here now probably do know me and know about my continues efforts
for the past 10 years to find and create upgrades and parts for our R/C tank hobby .
10 years ago I was contacted by Dick Bernier ( back then volunteer at the AAF-tankmuseum )
since he came across my post about the gear-reductions for the Tamiya tanks .
That was the point in time which got me involved in to the R/C tank-battling.
It was clear that the out-of-the-box Tamiya tanks are way to fast ,
so I started on several versions of gear-reductions and motor-upgrades and modified gearboxes.
During this time I met Daryl Turner , ( now also a ACE club-member and a very good friend )
another great machinist and creator of various tank-parts/upgrades .
We both discussed this gearbox-issue for years , each of us created his own version of upgrades
and we both had plenty of ideas how a complied new design could look like.
But obviously this is a time-intensive and costly project to make the first step in this direction .
For a view years now I disappeared from the tank-upgrade-business , for various reason , I don't need to mention here
But because of countless requests and emails I decided to do my come-back
and during our past November 2012 event in Danville I mentioned about my new idea for gearbox's .
One of my ACE club-members ( Bret ) pointed out : " there is one of your German buddies offering something like that ! "
Before I even had a chance to find out more and get in contact with him ,
( why should I spend time and effort for something new , if somebody else is already doing this ! )
Marty , another Danville tanker , one of my first customers for my gear-reductions back then ,
did get the contact going and
contacted me
right away I jumped on the phone and called him
very nice guy and we did chat for hours
since he did that step ahead , to have these parts already in production ,
and I was impressed of the quality of these parts , judging just by photos ,
I ordered right away a few sets of his gearbox's .
The principle of having 2 motors side by side and driving the out-drive-shafts via bevel-gears
is actually nothing new for tracked vehicles .
That principle is around since I can remember , also found in construction type vehicles .
Roland has the edge on this now , since he grabbed that idea and created his modular type gearboxes .
Now , you wondering , what has that to do with me ?
well , his gearboxes are very nice and a rugged design , but his original versions of gear-ratios and choice of motors
doesn't meet our expectations for our serious tank-battling.
For the scale-modeler his original versions are perfect ,
but for us doing serious tank-battling , we do need different configurations here .
In the meantime , Roland offers now also his gearbox's with various motor-choices .
But they are all 540/550 type motors , which are not so good for our needs
I haven't done yet any comparison tests with his latest motor-options ,
but from my years of experience with gear-ratios and motor-options for the Tamiya DMD's ,
I have learned that the best is to stick with 380/400 size motors
and to get the performance we want after the tank received several hits ,
the gear-ratio needs to be increased for more low end torque
here are now my modified version of his gearbox's :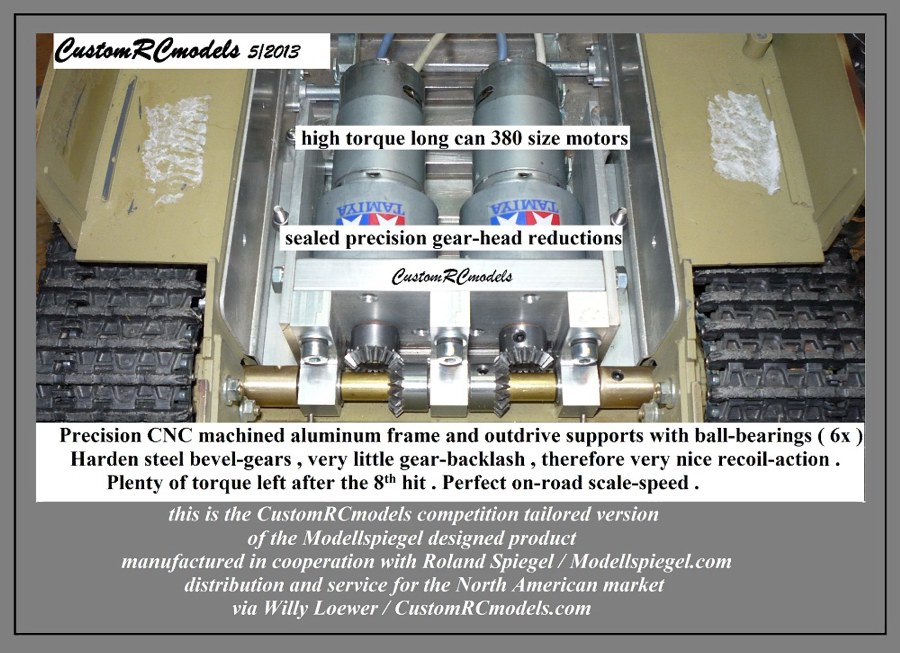 the first introductory to the public and tests of my modified version
was done during our 2 past events in Danville , March 2013
Jim and Marty ( which had already the original Roland gearbox's )
were very impressed of the change in performance
in between these 2 Danville events , March + May 2013 ,
I upgraded Jim's gearbox's to my version
during the May 2013 event we had already 2x Tiger 1's equipped with these gearbox's
ripping up the Danville battlefield
here are a few feedbacks and comments :
I knew Willy had his Tiger 1 and I was curious to see if his tank "was all that". It was. It ran well, was smooth, drove like a precision machine.
I went the whole event on less than two battery changes and I did not economize on mileage running around the field.
The Tiger 1 gearboxes are really impressive. I think they would work real well in a KV hull or the new JS hull.
Only drawback is their initial higher cost.But the energy efficiency, stronger design,and improved play value
evens out compared to what you'd invest in and experience when upgrading Tamiya gearboxes anyway.
Daryl Turner , ACE
Willy, I loved the way your mod worked! Thanks for the test drive.
Climbing a steep hill after 8 hits was just what I've been looking for all these years!
Please build a Custom RC gearbox for my new Tamiya JS-2.
Let me know when you are taking orders and I'll send a deposit or full payment.
Thanks, Dana
Dana Lowell , CO: H*E*A*T
I just want to echo Dana's comments, since Willy moded my gear boxes the Tiger has been running like a champ.
There's enough torque left at 8 hits to back up hills, I didn't find any terrain on the battlefield that my Tiger couldn't handle.
The speed is scale and performance is top notch.
I'm going to get another set for my Jagdpanther, well worth the investment.
Jim Farris , NEAT
Jim's video :
Very nice. The turret rotation sounded louder than Willy's TU. He is a true craftsman. He just did my 1/14 King Hauler mods. Enjoy it Jim.
Bob , NEAT
Willy always does great work. As one of the first distributors of Impact gearboxes; he fixed the initial problems and turned them into really smooth units;
much better than any that have been available since. After seeing how nicely they run in your Tiger (thank you for posting the video, by the way),
I am going to pull the trigger on a JS-2 for him to experiment with, and buy a set of them for it as well.
Michael Hahn , Pearl City , HI
and Jim's forums post :
and here a forums post from our May 2013 event ,
in which these gearbox's are discussed as well :
here a video from Roland :
( a little glitch here in the description , it should be 60% = about 35 degrees )
more updates , videos , specs and performance data will follow
bottom line :
I truly believe these gearbox's should be the breakthrough
in the ongoing battle against chewed up gearing's during our brutal tank-battles
no matter if you are the scale-modeler and you are looking for the true scale-speed and smooth long lasting service-life ,
or you are the hard-core battler who needs something which can withstand the brutal daily abuse ,
these gearbox's should fulfill these needs
we both , Roland and myself are more when happy to help you with the correct choice for you
contact us !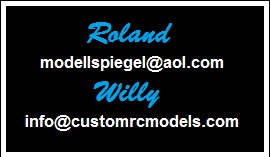 model-building is our passion !
I would like to impress a "big thank you" to our supporters and "beta" testers on this project !
Willy
CustomRCmodels
May 2013