CustomRCmodels online shop
|
home




Bachmann 45 ton diesel G-scale

Bachmann's Spectrum 1/20.3 scale 45 ton side-rod diesel engine
for G-scale track
super detailed , DCC ready ,
working smoke-stacks and cab and running lights
all 4 axles driven via 2x motors with worm-gear-drives,
over 15 inches long ( 18 inches with the couplers ! )
almost 6 inches wide and 7.5 inches tall
DCC ready
white LED headlights
dual motor and gear box assemblies
dual smoke elements
worm-gear drive
8-wheel electrical pickup
die-cast side rods, counterweights, handrails, and smoke stacks
sealed ball bearing races for all axles
all-metal pipe fittings
see-through steps and footboards
prototypically correct open grills
sliding windows and working doors
brass bell
detailed lighted cab interior with engineer figure
separate switches for direction control, smoke, and interior cab light
space for optional speaker
coupler pocket that can be set to meet scale or high rail height requirements
comprehensive video on locomotive history and maintenance
First produced in the late 1950s, General Electric's 45-Tonners were primarily used in short line and industrial applications,
designed to complement or replace their steam-powered counterparts at the end of the steam era.
GE 45 Ton Side-Rod Diesels are still being produced and are in use worldwide in several gauges.
The DCC-ready 1:20.3 Scale General Electric 45-Ton Side-Rod Diesel
marks a departure from Bachmann's traditional steam offerings,
but the high level of detailing and cutting-edge technology at the heart of our Spectrum philosophy remains the same.
Powered by dual motor and gearbox assemblies and featuring a meticulously detailed lighted cab interior,
the GE 45 Tonner is an excellent addition to any or post-steam or transition-era railroad.
Midwest Mining 81896 ( sold out ! )
Midwest Mining 81896 ( sold out ! )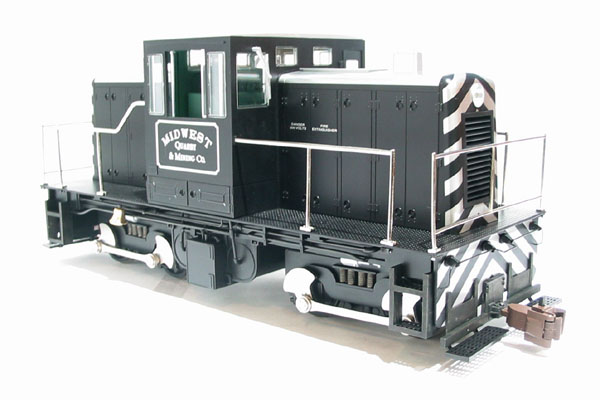 Midwest Mining 81896 ( sold out ! )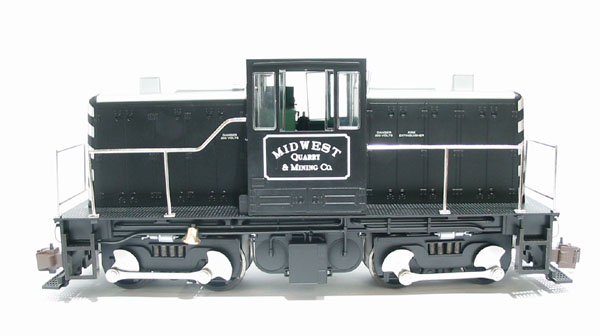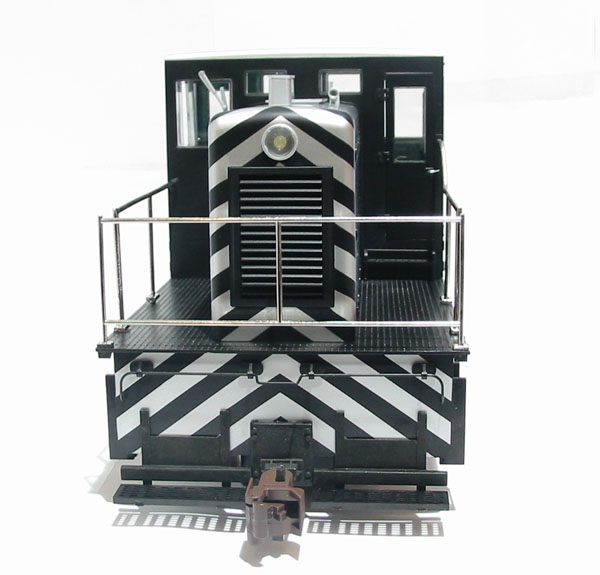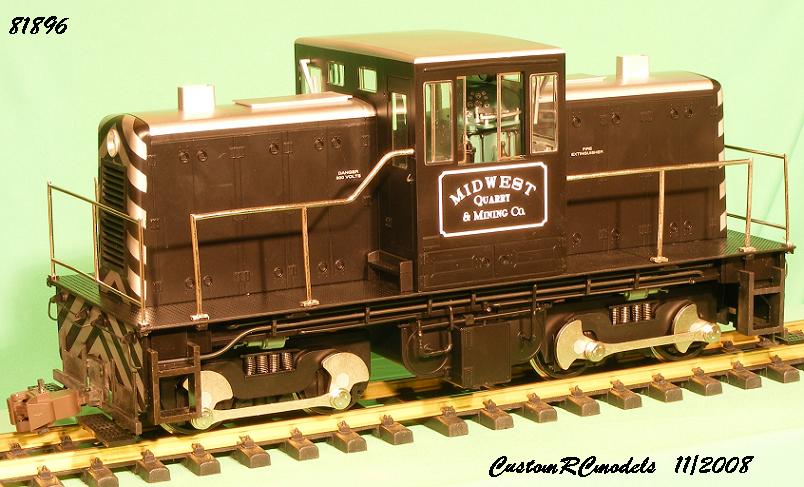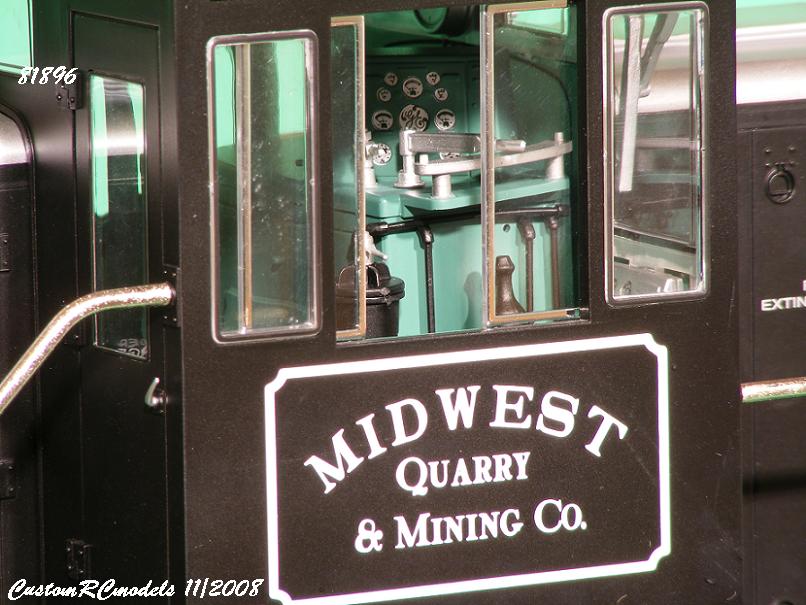 Santa Fe 81897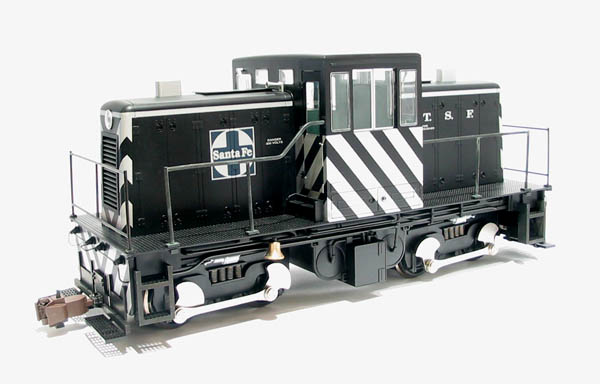 Santa Fe 81897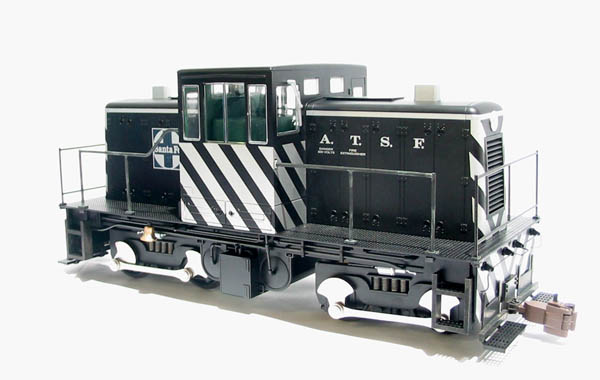 Santa Fe 81897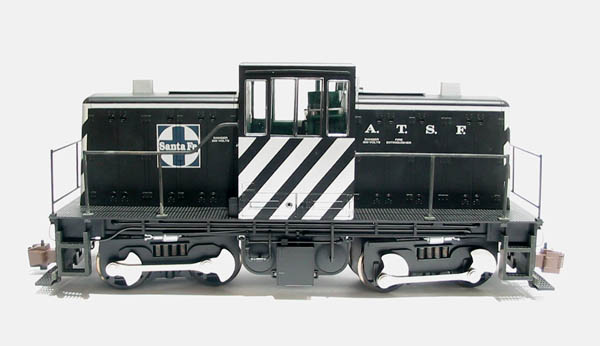 Unfortunately this is the only version I have left of these nice large diesel-switchers !
and only a few are left , if they are gone , they are gone !
This diesel-switcher has bean discontinued since several years !
But I am able to repaint them , ( I am a model-builder ! ) contact me for more info's !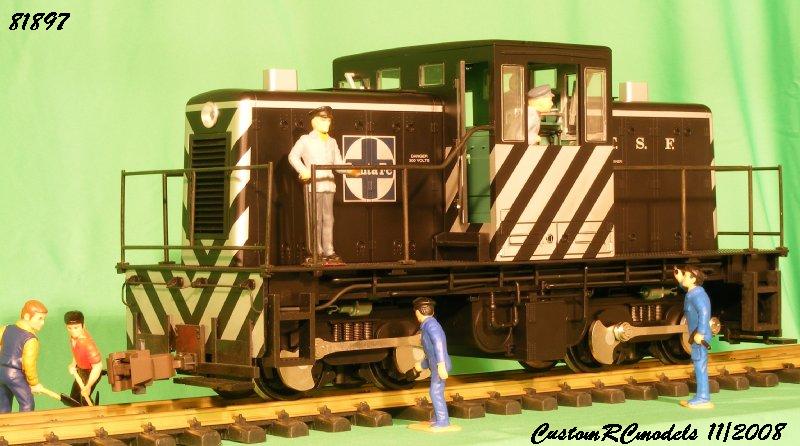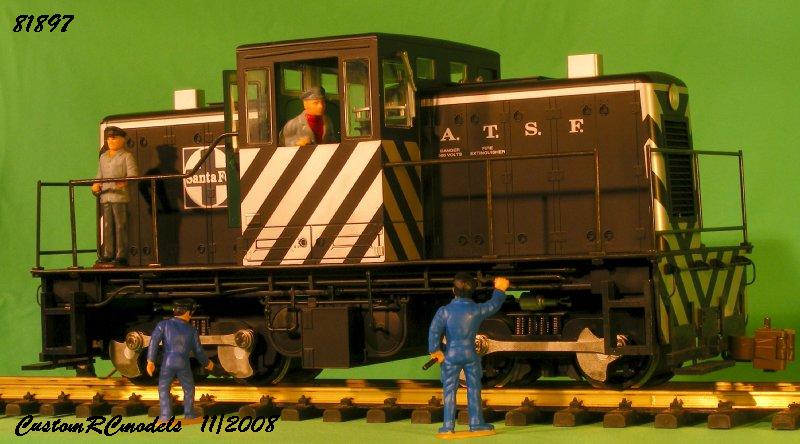 size comparison to a LGB Crocodile :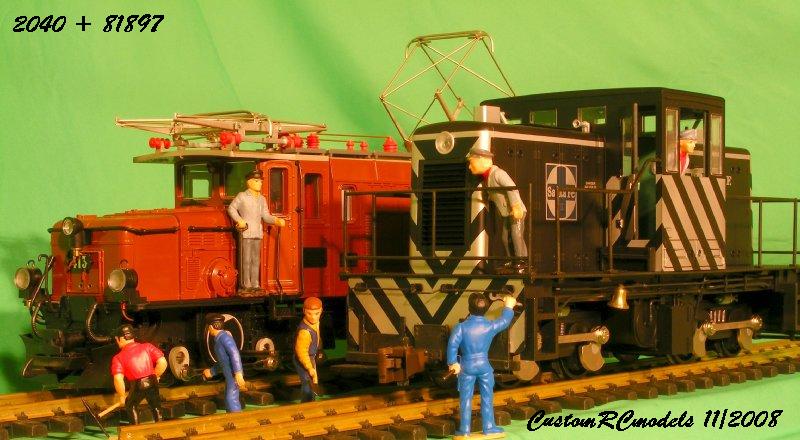 below are screen-captures from Bachmann's video included with this diesel-loco
it's a nice 30 minute video with historical data and maintenance tips
I made a 2 1/2 min version of that video with just scenes from this model-loco
size 320x240 , 7.61 MB
size 640x480 , 15.03 MB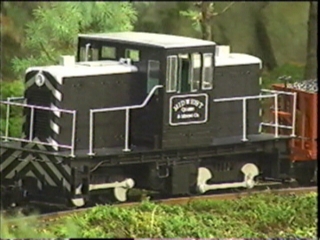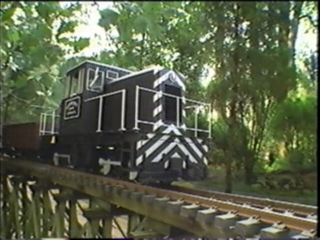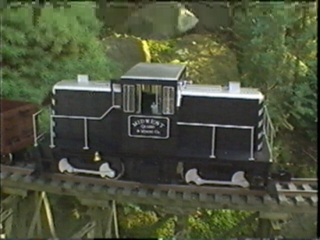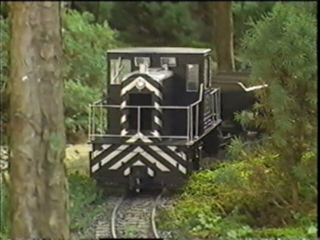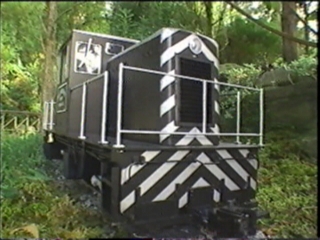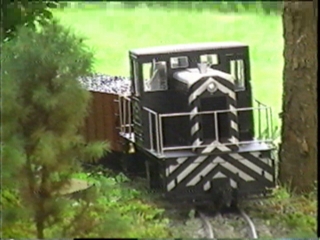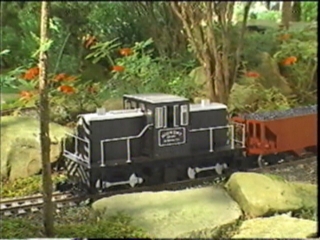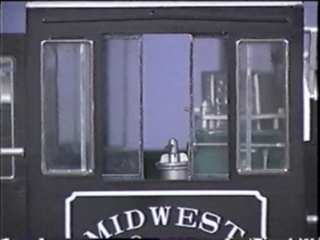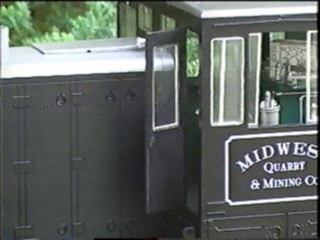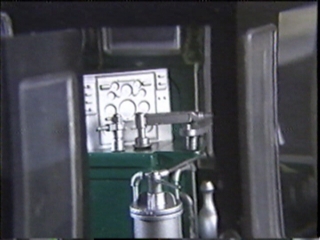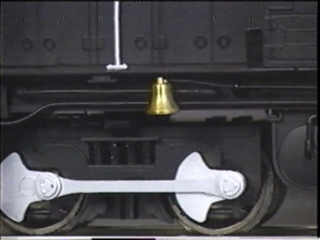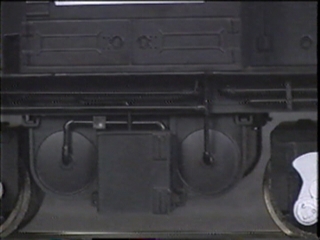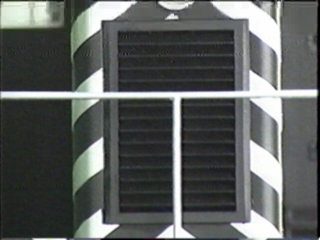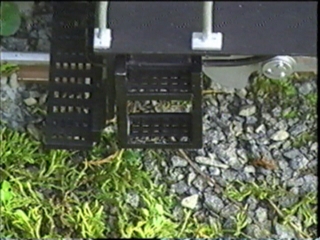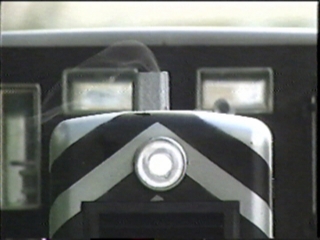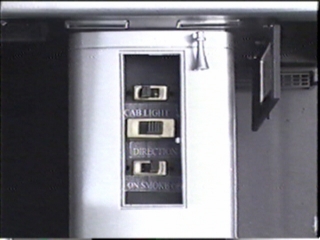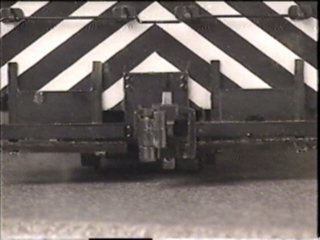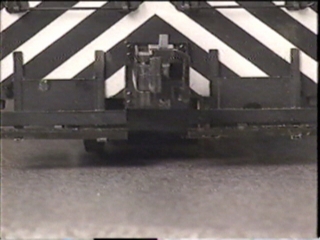 as well photo's of my conversion's ,
up-scaling , to be used with larger scales , like 1/16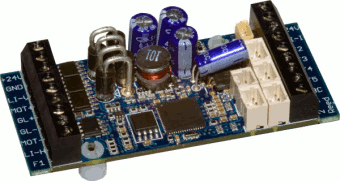 Massoth is the original German manufacture for the LGB electronics
with a distribution and service center in Atlanta , GA
I personally know the owners and since they do not operate
an online-shop for there products ( but I will do that soon ) ,
I am more when happy to help in getting there items ,
and if needed I would install it for you !
this Bachmann GE 45 ton diesel-switcher
will be shipped in original factory packing :
the loco is packed in a full Styrofoam box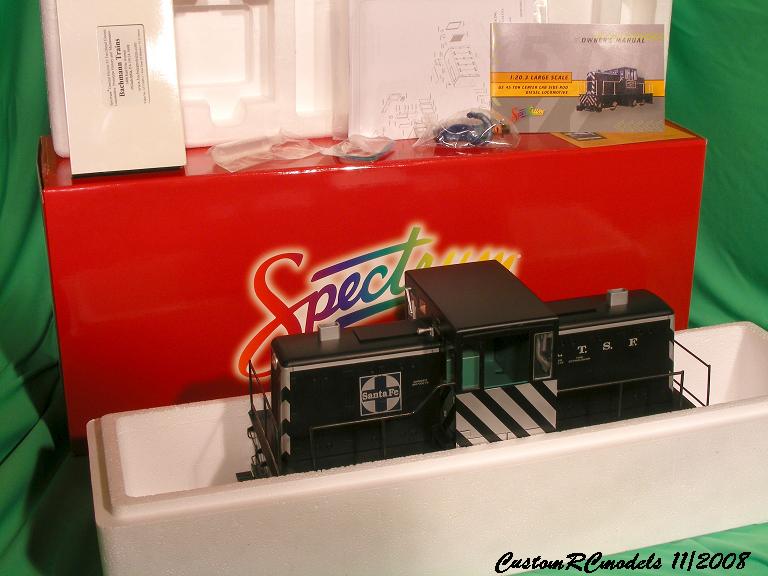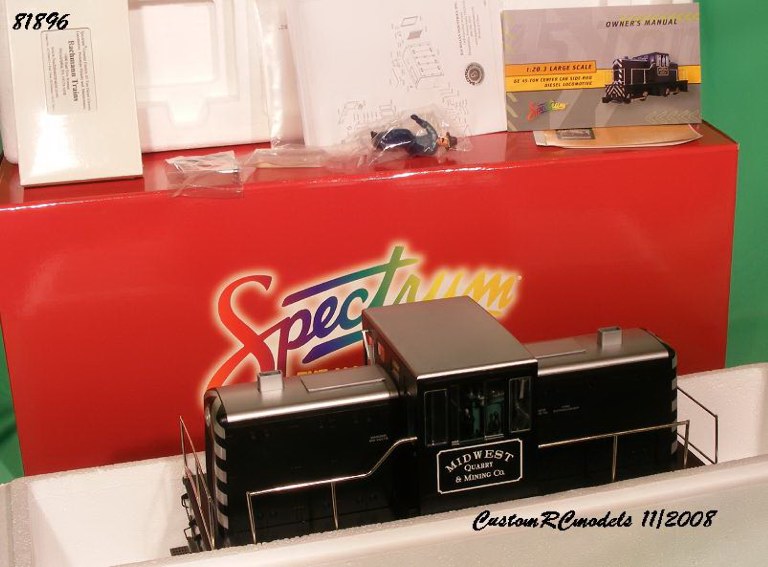 double-boxed with foam all the way arround in the second box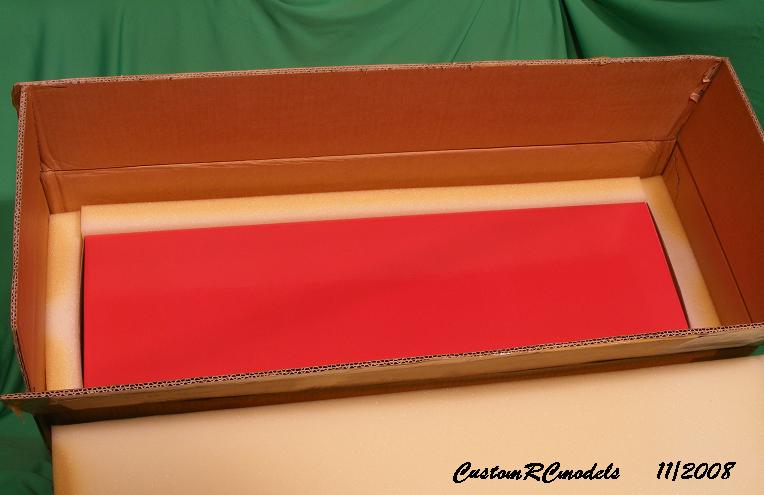 shipping-size L30"xW11.5"xH15" , 13 lbs
shipping-cost within the USA is $ 30,- via insured priority mail with tracking
these locomotives are brand-new , never run ,
taken out of the box just for the photos !
Bachmann Spectrum G scale GE-45 ton diesel-loco
Midwest Mining 81896 $ 195,- ( sold out ! )
( MSRP $ 399,- )
Bachmann Spectrum G scale GE-45 ton diesel-loco
Santa Fe 81897 $ 195,- ( sold out ! )
( MSRP $ 399,- )
shipping-cost will be invoiced separately
11 / 2008
update 11/2011
Willy
CustomRCmodels