CustomRCmodels - Photos
|
home




BOG-A-Rama 3 April 2007

this was again a everything-goes R/C spectacle ,
thanks to all of you showed up :
Klaus ( from Germany ) , Scott ( RC-Guy ) , Mike ( Timbercutter ) ,
the ACE-bunch :
Bill , Jake and Dutch , Mike and his dad ,
and made this again to a memorable and enjoyable weekend for everybody !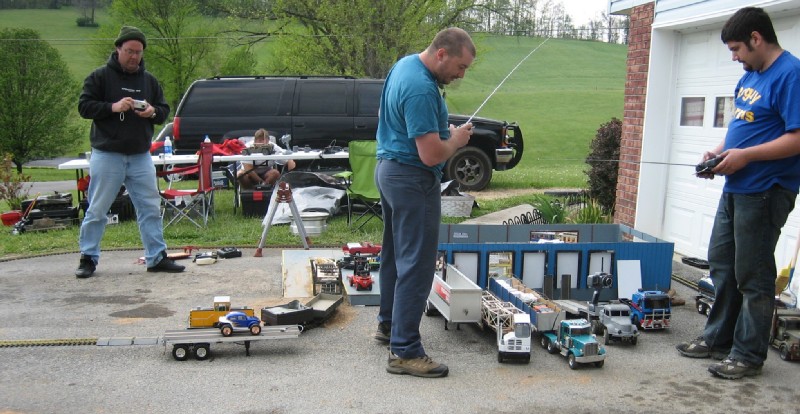 this time we had so much action and fun going on ,
that we almost forgot to take some photos and videos .....
but luckily Jake , Klaus and Bill took some snap-shots :

BOG-A-RAMA III
Got back from a weekend at the BOG cave. A few of you have been there. It was the first for me.
First I wanted to thank Willy for his hospitality in letting us play and destroy a portion of his yard.
It was loads of fun. We started to play with the new Losi mini baja. Boy, are those fun and fast.
But we had trains, trucks, tanks and cars.
It was well worth it if not just to see where it all happens
at Willy's.
BW
...and Sunday night there was flying, Klaus, the Bog, Dutch, and I went out to a field near sunset and flew past sundown. Willy put a light kit on and flew into the dark. Pretty damn awesome, sometimes flying nap of the earth with the airplane inverted. Willy once again demonstrated his expertise as an RC operator, and only once did he almost nose-dive into the ground but saved it at the last second. Each time I go to a BOG-A-RAMA, I tell myself that I need an additional day for the next time. As I've done two days, three days, and now four. Shit, what I need to really do is just move. This time besides Willy and myself, everyone there was someone who hadn't been there before. Basically, it went like this. Willy got back off a two-week trip Thursday night, so we set up everything Friday with a train system circumferencing almost the entire two-car driveway, and one rail going up into the backyard with a loading dock at the end. Within the rail system, a trucker guy named Scott set up a warehouse/loading dock where another finger of the rail system went up into it where another loading dock was positioned. Willy also put a couple of fingers into the garage so you could just drive the trains into the garage. So we'd drive tanks onto the back of trucks which would bring them to the loading dock where they transferred onto a rail car and went by rail to the other loading dock where they were unloaded. So we got plenty of truck driving, and of course none of the trucks are the same, some very different to drive around with the most difficult being the trailer with the intermediate dolly. He also has the Büssing half-track with a TBU inside that made for some great targeting by the tanks during the night battles. The tank battles mainly occurred at night, partly because there was just too much to see and do, and tanks in the daytime, even though we drove quite a bit was pretty much 'been there, did that'. There were nine people present and always had multiple continuous things going on. A lot of times, I'd just sit, relax and watch the variety of shows going on. I looked over once at Mike's dad Dick (who you guys met at the last Danville run), and thought he had the best idea at that time and had crashed out in one of the chairs. It's just the total anti-thesis of all the times at Danville where it was anything but relaxing to me. Besides the light drizzle Saturday morning, the weather was perfect. My arms even got burned by Sunday. Like Bill said, those Baha's are really something to see. If they had wings, they would fly much further than just doing the substantial jumps they were doing. I took a small video on my camera, but it doesn't capture the speed these things are going very well. Both Willy and Bill had one, so everyone got plenty of stick time driving them. Saturday morning there was a drizzle rain which made everything slick and these things really got it. I can't say enough for our great host Willy who really busted ass to make sure we had a great time. Willy and I are talking about another one towards the end of October. More about it as we get closer, I've got to recover. Remember that there is a trucking show the 17th,18th, and 19th of August. On Monday, I was rolling as Willy was putting beer bottles into his trash can, and the whole thing was full of just bottles. This was all done mainly by Willy and Klaus too ha ha. Willy would typically be drinking a beer and doing three or four things around the shop the whole time. Each night around midnight, I had to call it quits and get some sleep and you'd see the Bog's face go down and think damn it's still early, and he'd keep going till 2 or 4am. Usually making up something for us to mess with the next day. Lastly, Willy and I had both got WeCoHe Panthers, but the second one still hadn't arrived, so he split the kit up so I can work on the upper hull and turret, and he figure out the upgrades needed for the chassis/lower hull. I finally got to really look at it last night, and am just amazed at the detail on the thing. As you have to sand down each angle on the hull to make up each surface, this is going to be a fun kit.
Thanks to all who showed up, sorry to those who couldn't make it, Dutch and I had a blast,
Jake
after everybody left , Klaus and myself "played" for 2 more weeks !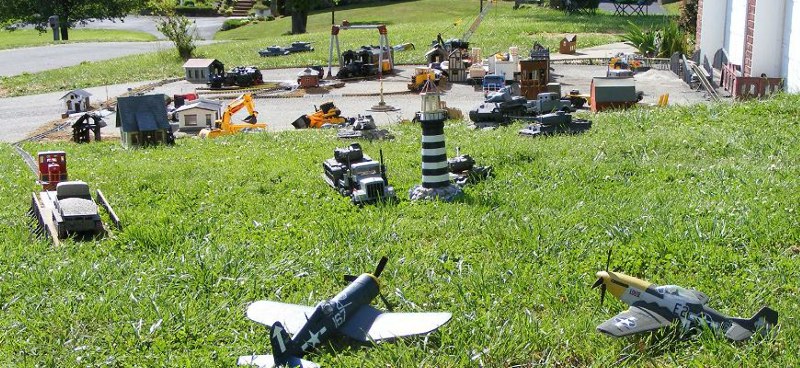 next "BOG-A-Rama 4" in Fall 2007 !
see you all at Bill's place in June 2007 for the :
Willy
CustomRCmodels
ACE
05-2007