21 st Century 1/6 scale M5 Stuart R/C tank
|
home




Daves Custom Stuart

Dave from the UK send me these photos of his Stuart tank
he did a terrific job on this ....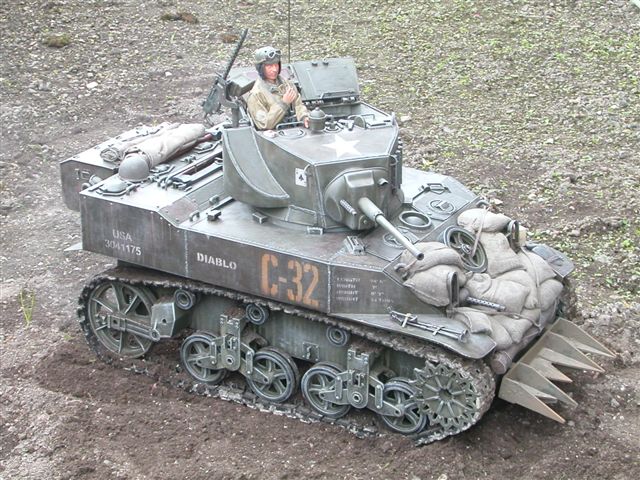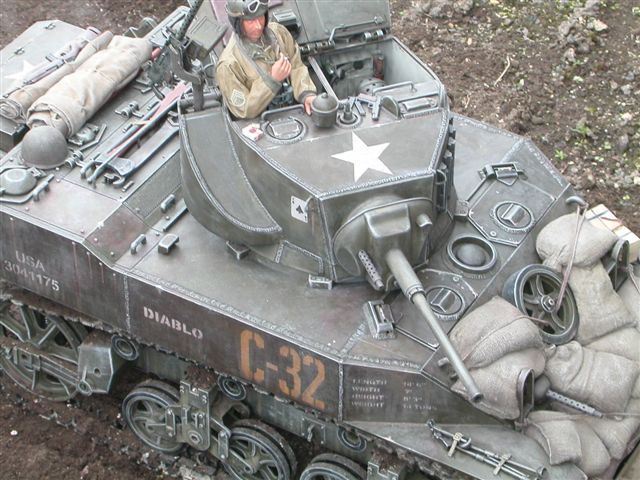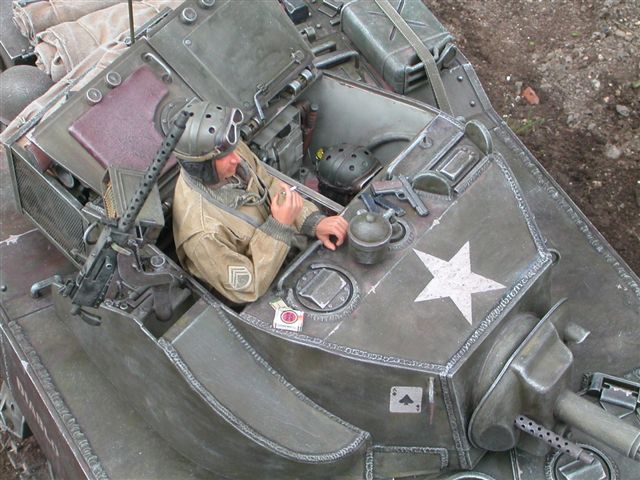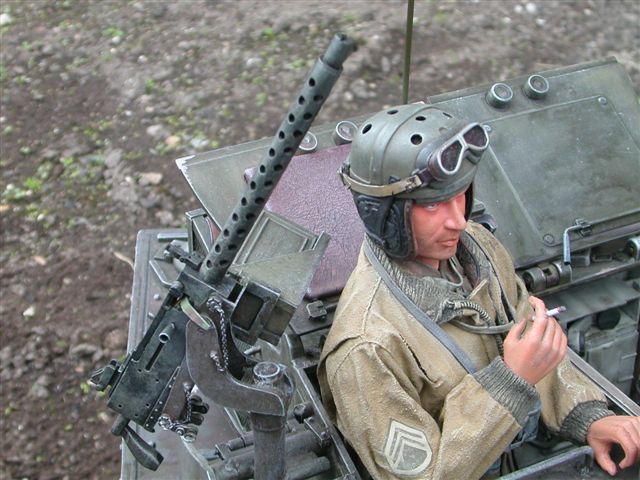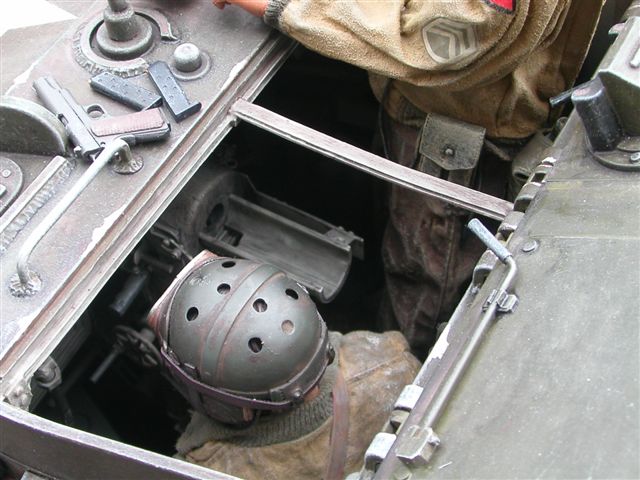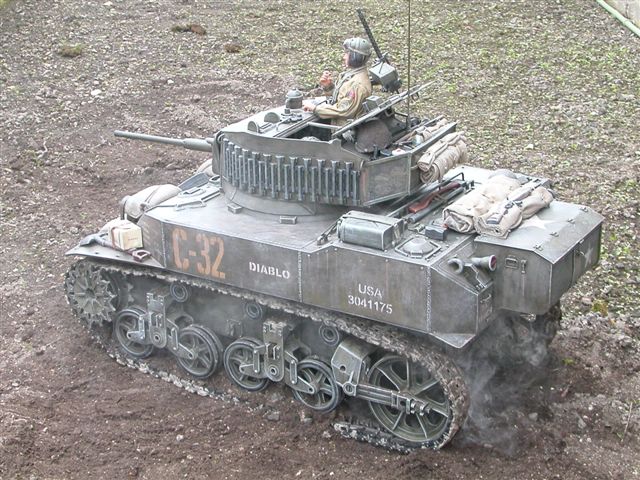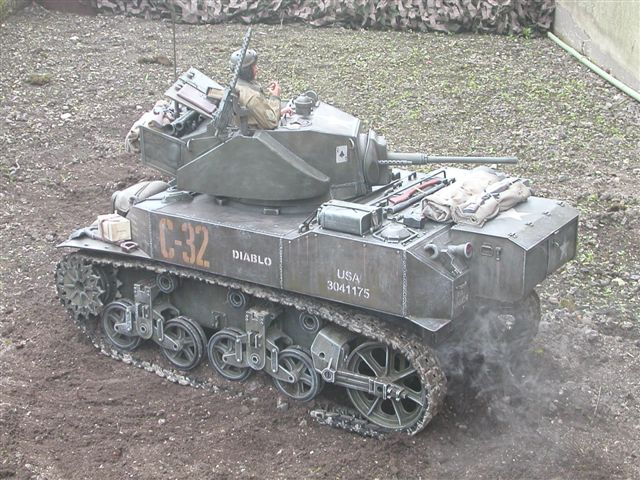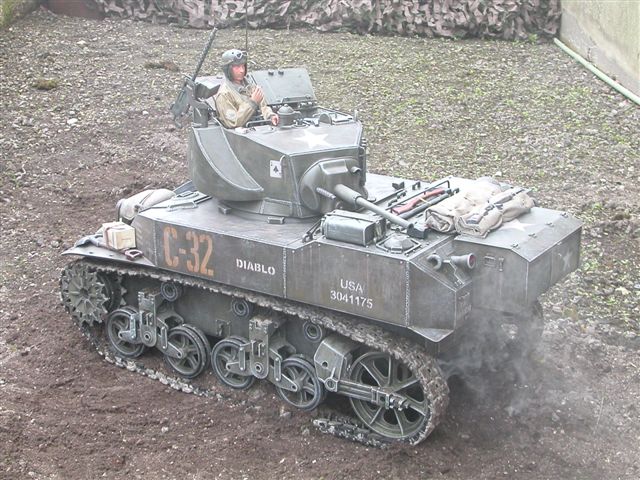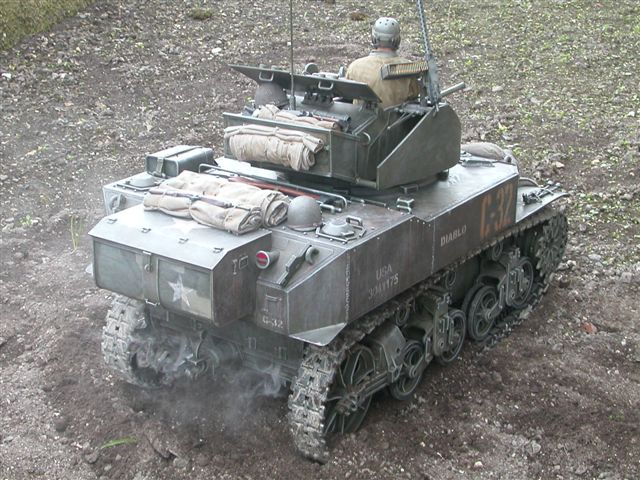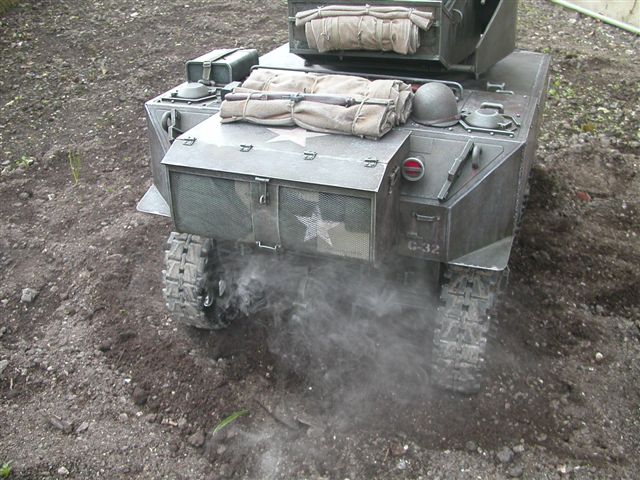 and here Dave's "how he did it "...
Converted 1/6 R/C Motorworks Stuart by Dave Dibb
The Turret
The turret is from the static version of the 21st century Stuart and has had a complete scratchbuilt turret interior
added from plasticard and Dragon accessories.
All the missing turret welds have been added with milliput,
new scale handles made from brass wire have replaced the originals.
The 30 cal mount is scratchbuilt
and both the mantlet and external 30 cal have been replaced with the Dragon one.
The turret basket is made from aluminium mesh and plastic angle
and is based on photos of Stuarts during the Battle of the Bulge.
The mantlet has also been modified by carving away some of the rear section
and adding a lip to represent a more scale appearance and a new gun barrel was added.
Both gunner and commander are modified Dragon figures and most of the stowage is also from Dragon.
The Lower Hull
The lower hull is the Motorworks R/C version which has only been modified slightly.
The main changes are the addition of exhaust deflectors on the hull rear from plasticard,
a smoke unit has been fitted and piped to the deflectors
and a Como drills 3000/1 ratio geared motor has been fitted in the lower hull to drive the turret
which was to heavy for the supplied turret drive.
The on off switch is now inside the drivers hatch to allow for rear deck stowage
and the main electronics board was moved to the side of the hull to clear the turret motor and turret basket.
The Upper Hull
The upper hull is also from the static version
and has had all the track guards removed and new mudguards and side armour added with 2mm plasticard.
The late production rear stowage box is made from plasticard and aluminium mesh
and is packed with Dragon accessories plus homemade cardboard C ration boxes.
All missing welds have again been added with milliput.
The rear grills on the upper engine deck were cut out and replaced with aluminium mesh.
The sandbags are from Cotswold Collectibles and were filled with polyfilla
and allowed to set in place before the lashings were added.
The hull 30 cal has again been replaced with the Dragon item.
Painting
The whole model was sprayed with Tamiya olive drab
before adding the markings from hand cut stencils which I think always look more natural than decals.
Once this was dry a wash of matt black mixed with Burnt Sienna was applied
and subsequently drybrushed with light stone.
Finally chipped paint areas and rust streaks were hand painted on using Humbrol enamels.
The final weathering was applied in the best way I know,
by finding plenty of mud and driving the tank through it.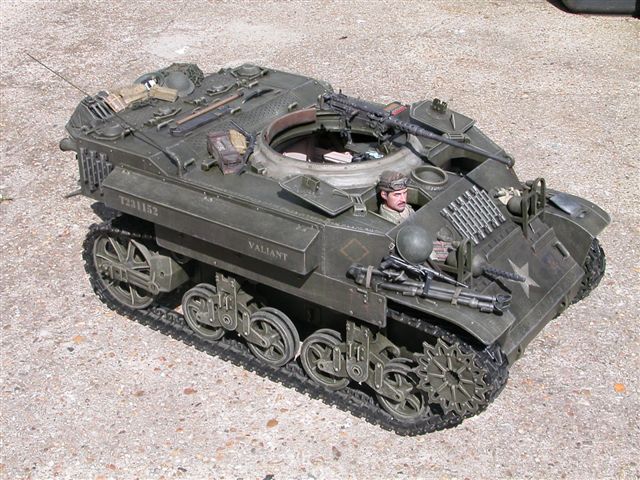 and coming soon :
M5 High Speed Tractor with towed 155mm Howitzer
great Job Dave !
4/2004